Devine Long Journeys
narrated by Candice Farmer, EQ Director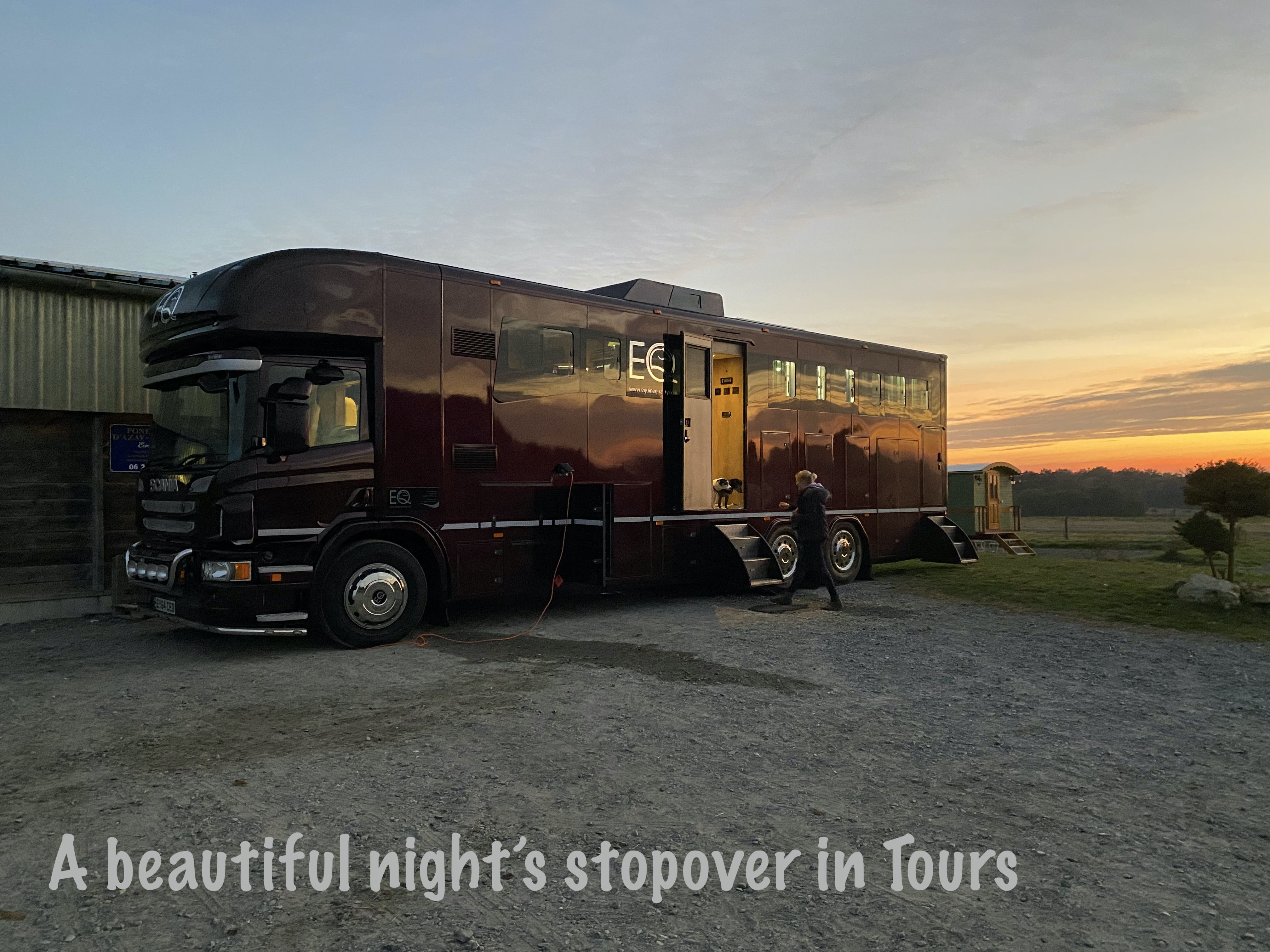 Uckfield to Vilamoura is 2,359 kms... That 's a long drive down to Portugal I have always dreaded! Finally last autumn I decided to take the plunge and embark on this long journey for the first time as the sole driver. I really enjoyed it……we made the journey in Devine, our 26T EQ 6 stall / 6 berth Scania horsebox and I can honestly say she is amazing. The Scania just drove beautifully, cruise control most of the way,  I never felt tired.
We were very well stocked for our 5 weeks away and loaded up with 20 bales of hay, 18 large bales of shavings, 40 sacks of hard feed, tables, chairs, bikes, bar-b-q, food, clothes, rugs, tack etc. Plus the horses of course and not forgetting the dogs and their beds!
The horsebox is very stable and gives the horses a good, comfortable ride enabling them to be very relaxed and with plenty of room they could eat their hay off the floor, which is necessary so they can relax their muscles and helps to prevent airway sicknesses. We always have space to get to them, work around them as needed and access to plenty of water on board.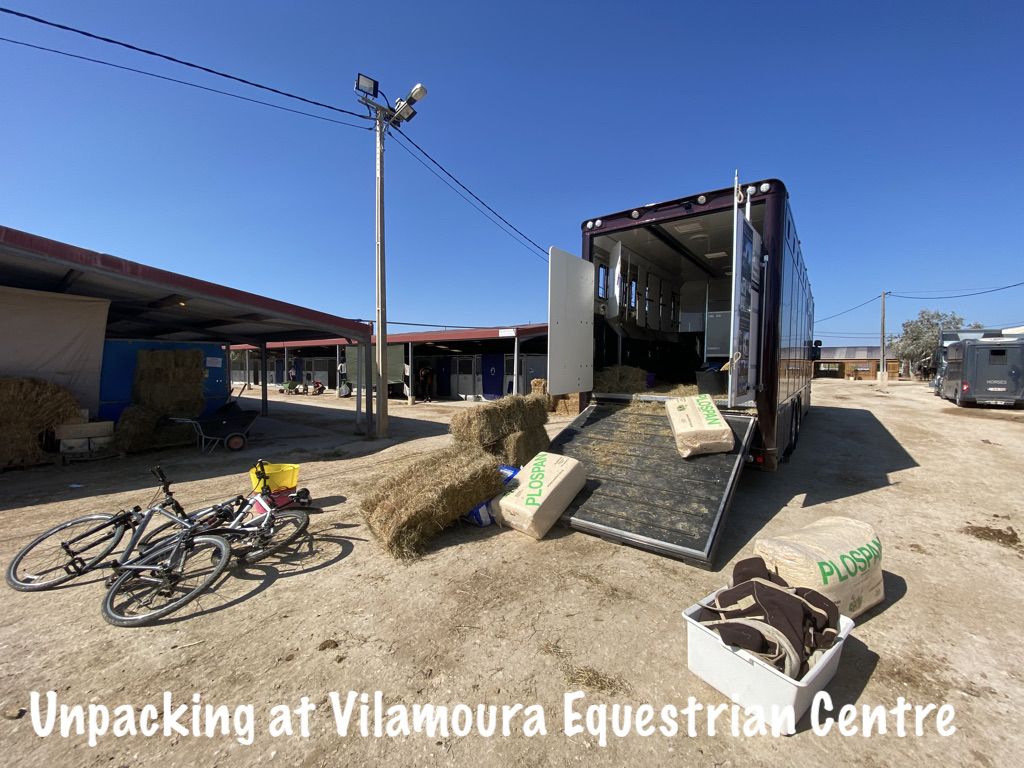 The only stressful part of the trip was the French border control in Dover refusing us entry to France, not interested in looking at the hours of paperwork we had had to complete and simply saying 'Non".
6 hours later and without explanation a very nice French man smiled, stamped our passports and said "Bon Voyage" no rhyme or reason! Thank goodness as having to turn around and go back would have had cataphoric implications, starting the expensive paper over again and missing a week's worth of competition probably would have meant we wouldn't have gone. Back on our way again unfortunately having to face another setback, 2 ferries being cancelled !! 
When we finally arrived at Calais our journey had taken 14 hours instead of 6 but the horses travelled extremely well and were actually quite fresh when we unloaded them at 10 pm, we gave them another walk and a light lunge in the morning before setting off for Villamoura. 
On the way down the roads were quiet and we all travelled well, despite the hot sunny weather, the horses stayed cool, with plenty of ventilation, lots of windows, skylights and fans! We stayed cool in the cab with our fantastic air conditioning!
Due to the delay at Dover, we ended up with 4 stayovers. The stables were welcoming each day.
We and the horses arrived a day late but were all fresh and ready to start the show.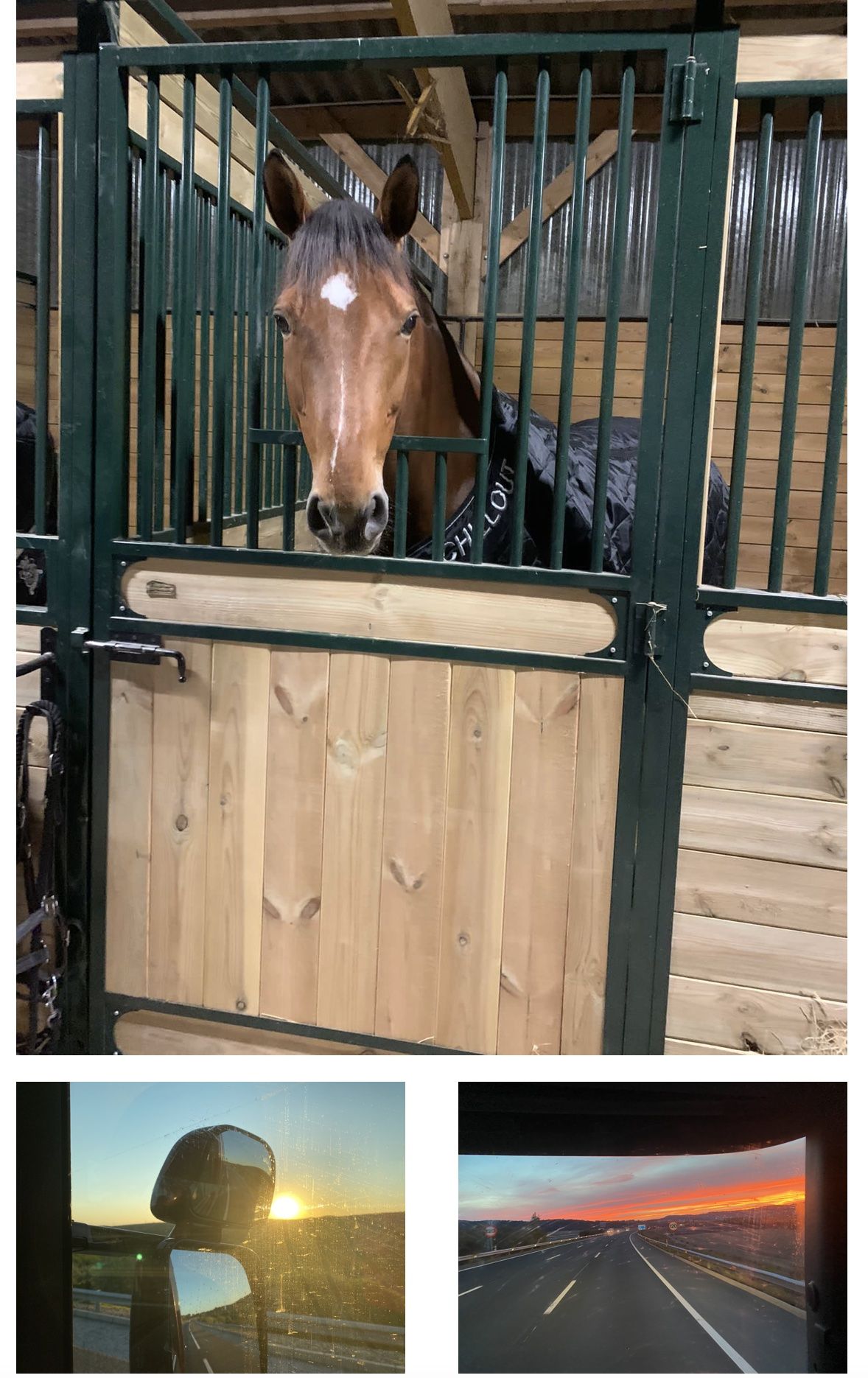 Travelling back in November, we hit all types of weather. It started with a huge thunderstorm as we left Portugal at 4 am. At first, the coloured lightning was fascinating, but the heavy rain which turned into golf ball-sized hailstones felt quite frightening.. they made so much noise, I really thought we were going to find big dents in the sides but no, Devine just let them bounce off! (I think the upgraded strong materials we use to build our trucks really helped this situation.)
Arriving in Spain the storm stopped and we were able to cruise all the way up to Burgos. The truck had no problem with the mountains, and the views were stunning. The way home I had a co-driver, so the hours on the lorry were much longer for the horses, but they all travelled well and enjoyed their night's rest at the stables. 
Early start again, this time pea soup! Wow, I could only see a few metres in front as the fog was so thick. Despite that, the lorry drove fantastically well and the extra spot bars fitted at the front of the Scania helped with the visibility.  Thankfully the fog lifted by the time we reached the French border and daylight emerged. My brilliant co-driver then took over and we cruised all the way up to Le Mans, a handy place to stop. Despite the persistent rain, the truck ran well.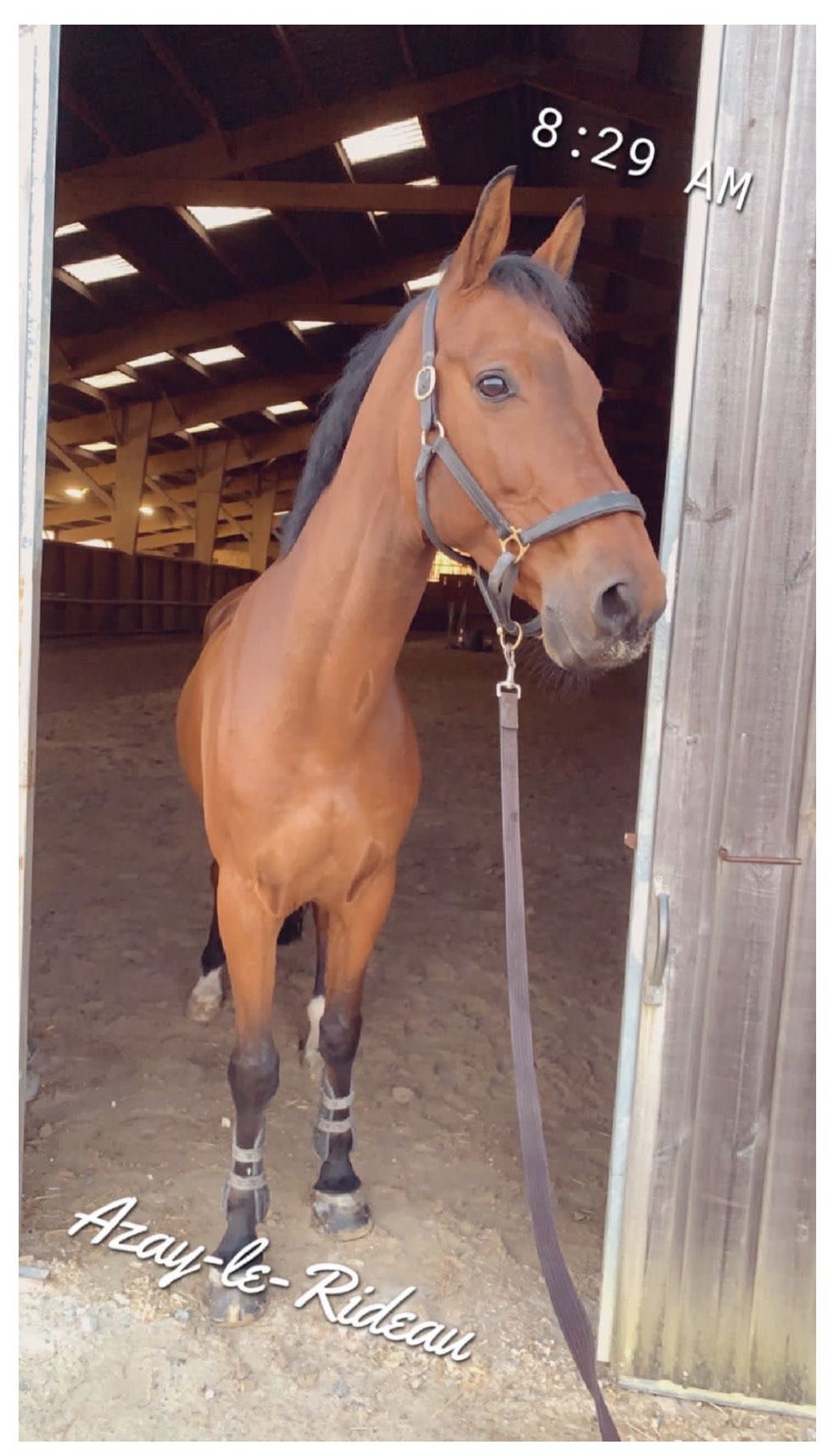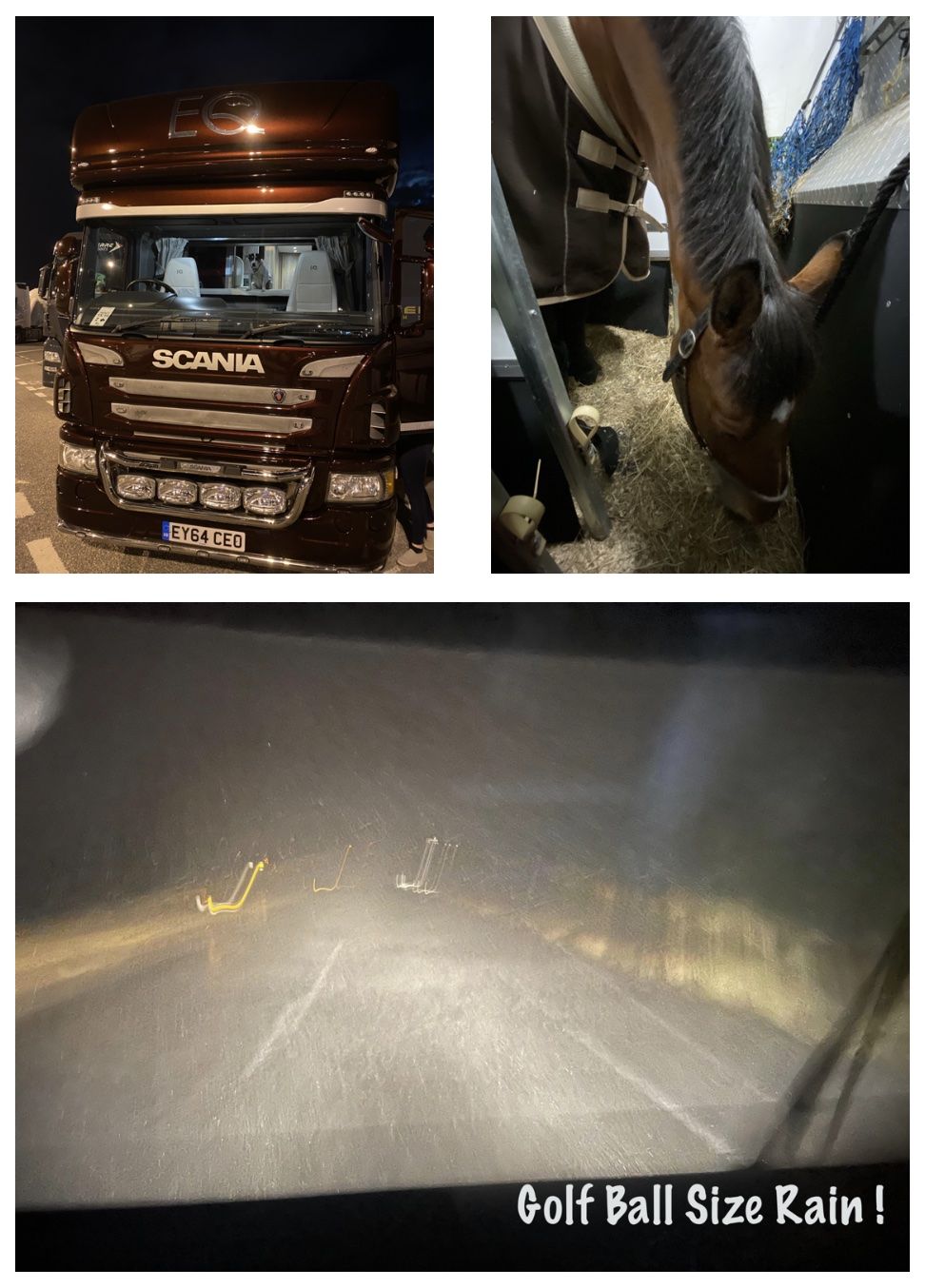 I am so grateful to have such a super horsebox. Once you stop and unload the horses, it is quick and easy to muck out the back and re-fuel with hay ready for the morning start. They are fitted with bright lights and are very light and spacious, so doing jobs at night are still easy. The living too has everything at your fingertips. Whether you choose to hook up or not, there is always a way to heat or cool the living, cook or cool your food. Letting the dogs run around outside in all the wet muddy areas, always thankful for the hot and cold hose outside to wash them down!
My groom / co-driver said he loved his room too.. roomy and very comfortable.
Last leg home. I had a break from the early driving but we took a wrong turn so our skilled co-driver had to turn around in a tight area in the dark. Devine turned so easily with a 4 point shift!! With cameras in place, it was a breeze and all could be done from the cab.
A few hours later we were waved through border control swiftly and finally on the ferry home.
It is amazing how much is stored on the truck, but it's easy, you just take off what you need on the yard, clean and replenish the show stuff. Jet wash the back, a quick hoover and wipe down in the living and cab… fabulous, Devine is back to being a show model.
I did think the journey home was going to be tough, but it wasn't. Having now done the trip, I would never hesitate to hit the road again.